Canvaswork
"Not your mothers needlepoint."

Modern needlepoint and historical canvaswork is not the same thing as what I or my mother grew up doing. Modern needlepoint is all about stitch variations and building stitches with layers. With today's patterns it is okay to let the canvas show - a very radical concept.

When we are talking Canvaswork from a medieval historical perspective, we are talking about several differnt types of work - all of which where done on a linen canvas. These include - the brick stitch work so popular in the lower German and Westphalian areas, tent stitch used to produce slips, florentine and hungarian stitch designs done so beautifully on furniture and bed hangings, table carpets with tent, cross and long arm cross stitch, and of course carpets done in "turkey work".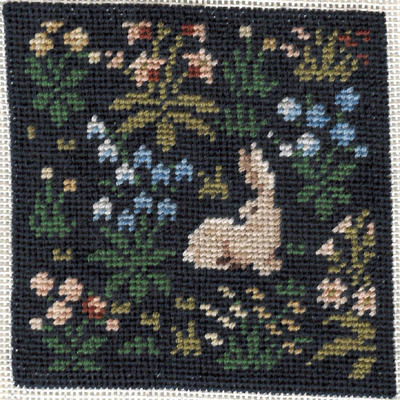 One of my experiments was with the use of a mille-flori pattern from a medieval tapesty; done in petit point and persian wool on a painted canvas. Rather than using one needle, I approached the piece with multiple needles -- one for each thread color. Then rather than starting and stopping a million times, I parked the thread and needle when not in use. This technique worked rather well with all the very small motifs requiring only a couple of stitches.


Most of the Mille-flori patterns are done in tapestries. While the tapestries were woven, the workers also went back over the tapestries with needles adding in little bits of embroidered accents in silk and metal threads. Perhaps at some future point I will add highlights to this little piece when I decide what it should finally become; rather than a UFO.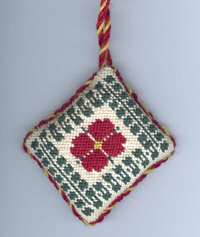 One of the people in our SCA Needleworkers Guild, Christian de Holacombe, created a kit showing a lovely tent stitch pattern. Here is the model I stitched of the canvas rose.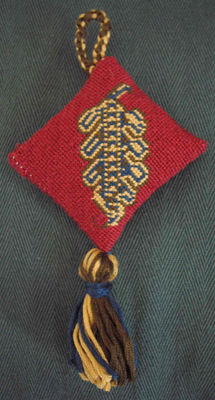 I was asked to teach a beginning Canvaswork Class. Since I feel that it is important to try actual patterns to get a feel of the period, I charted 2 of 4 leaf patterns found on the edge of a cushion from Hardwick Hall. It is reported to have been done by Mary Queen of Scots, but may have been done by Bess of Hardwick. While I used tent stitch in the model, the original used a number of different stitches. The class handout is in pdf format.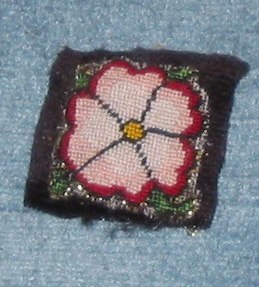 For one of my columns in Needlepoint Now, I was asked to talk about slips and historic furnishings. The project from that column was a classic briar rose slip. It was done in silk on silk gauze (40 count) and then trimmed out. It was then attached to a small piece of black velvet for use in a clear plastic key chain attachment. As with all slips, the threads around the edge can not be clipped completely. Historically you see an added layer of stitching to cover the edge or a cord of some sort.
Having done some bargello in my youth - I was curious about its origins and whether it would be considered within "period" for the SCA (pre-1600). The results were - yes probably - and are put forth in an article. Also here too is the Pattern Page which accompanied the article to assist in further understanding the stitches and play of colors. (also see side panel for links)