Sabrina's Run for the Poppy
2005 -- A.S. XXXIX/XL
My Entries:
* indicates a winning entry
March Crown:
Practical Science - Tinctures
Tannic Acid Dye: Walnut *
Tannic Acid Dye: Berry Vine
Ink: Black Walnut
June Crown:
Fine Arts - Underpinnings
16th Century Embroidered Women's Hose*
Arts & Sciences:
Performing Arts: Poem, topic - Beauty
Sestina*
Arts & Sciences:
Fine Arts - Heraldic Banner
Painted 15th C. Tournament Banner*
Arts & Sciences:
Technical Sciences - Horse Barding
Horse Barding - model Rocking Horse
Arts & Sciences:
Practical Sciences - Preserved Foods
Brined Artichokes (Elizabethan)
Pickled Cheese (Roman)
Purgatorio:
Technical Science - Broaches
4 wire Broaches*
October Crown:
Practical Science - Bone or Antler
set of pin, sewing needle, naalbinding needle, seam smoother and 2 needlecases in bone*
I was also awarded a token for most points at the A&S Tournament for an individual.
The Poppy Ceremony at 12th Night:
top row l-r -- Herald Antonio, King Fabian, Queen Eliska, Herald Wilhelm, Countess Kira (Sciences Officer), Lady Aurelia (Arts Officer)
center -- Sabrina de la Bere
bottom row l-r -- Lord Bennett, Lord William Warren
Also standing witness, but not shown in the photo are members of the Order of the Golden Poppy.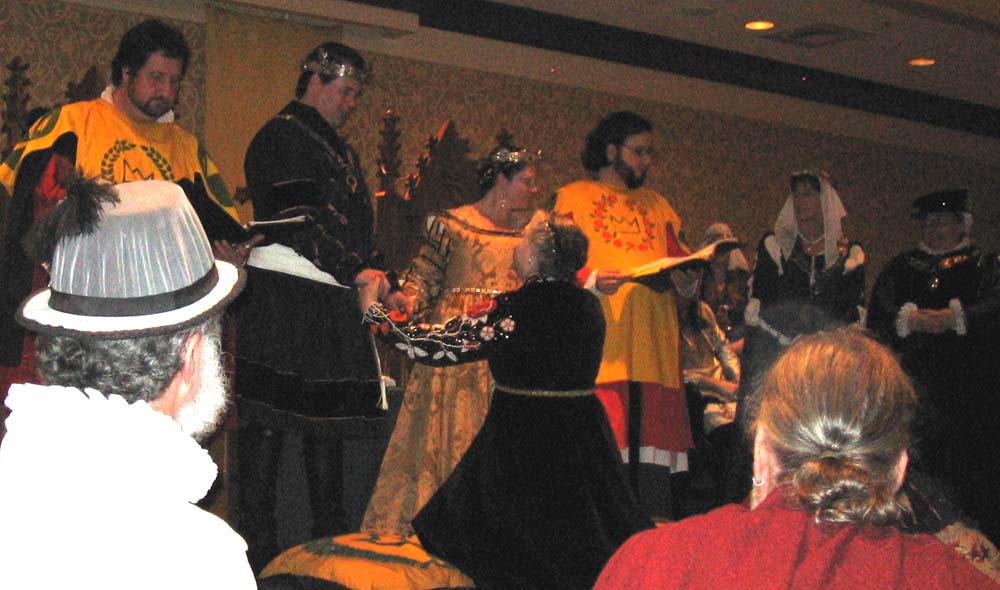 My display at the Arts and Sciences Display before Poppy ceremony:
Wearing the Poppy Regalia (pendant and cloak) and showing off the sleeve with the rose from my arms and poppies:

l-r: Pearlsticken Hat and album of documentation for hat and dress with beaded sleeve, binder of class handouts for 2005 (17 in all), example of Egypian style pattern darning - class model, bookmark done in voided work (double running and long arm cross stitch) - pomogranate pattern from 16th C. model book - class model, broaches, bone bits, 6 tokens for winning entries, dyed wool and silk (and some knitted), binder of documentation for Poppy Run, embroidered 16th C linen hose, painted banner, horse barding on miniture rocking horse.

Knitting - additional colors are from copper (sea foam green), tumeric (golden yellow), and onion skin (winey brick red).